CURE4LIFE is a research consortium that brings together leading partners in the fields of science, patient welfare, ethics and communication. Avans University of Applied Sciences is one of these partners. The goal? To pave the way for gene therapy as a treatment for incurable diseases.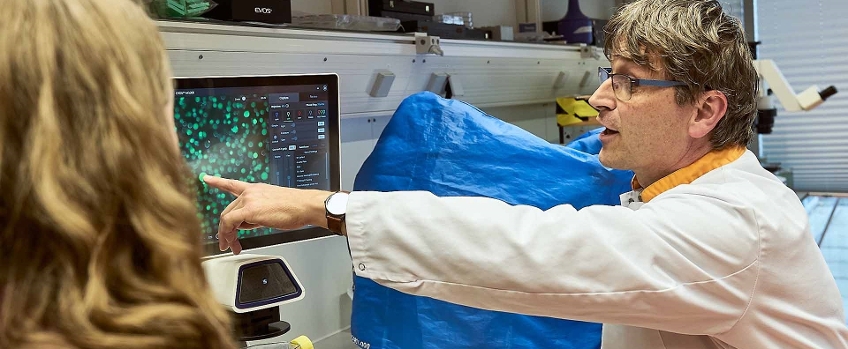 (photo: Martie Verschuren at work in the laboratory)
From Avans, Martie Verschuren (Analytical Techniques in Life Sciences) and Michael Echteld (End of Life Care) are involved in this multidisciplinary research project. They stress that this is a special collaboration on an important theme, which is underlined by the 5.5 million euro grant that CURE4LIFE received from the Netherlands Organisation for Scientific Research (NWO).
'Boy in the bubble'
"For certain diseases, the only chance for survival is gene therapy", Martie explains. "Some conditions can lead to a severely compromised immune system." A well-known example is SCID, which was made famous by the movie about a boy who suffered from it and had to spend his entire life in a plastic bubble. There's no effective treatment yet for these patients. But the research on gene and stem cell therapies that could cure this disease is already in an advanced stage."
Gene therapy involves modifying a person's genetic code – their DNA – to fix specific 'flaws' that can, for instance, lead to problems with the immune system. But while the range of available gene therapies continues to grow, many patients do not have access to them. In many cases, the pharmaceutical industry is simply not interested. This is because gene therapies often only benefit small groups of patients, while the development costs are high.
Platform
That's why CURE4LIFE also focuses on the affordability of treatments. Michael: "This collaboration wasn't initiated by the pharmaceutical industry, but by scientific institutions and various civil society organisations. None of these partners are driven by profit, which helps keep the costs manageable." Martie: "Meanwhile, we're developing a platform infrastructure – a kind of template that can also be used for research on other diseases."
Another complicating factor is that the general public has been slow to embrace gene therapy. As a result, patients are sometimes hesitant to volunteer for gene therapy research, causing delays in the development process. The consortium aims to promote public debate on gene therapy, and to ensure that people's opinions are informed by the right facts. To this end, CURE4LIFE has attracted researchers from a wide range of fields, including law and ethics. "It's easy for people to jump to the wrong conclusions when it comes to gene therapy", Michael explains. "That's why we're going to investigate how people currently view this kind of treatment. After that, we want to start a dialogue, for instance through discussion groups."
Hope for a cure
In addition, the researchers are talking to a very specific group of people: terminal patients undergoing experimental gene therapy. "How are they experiencing their treatment? Does it offer them a new perspective, renewed hope for a cure? How does the therapy affect their quality of life? We're also looking at how patients and their loved ones handle shared decision-making."
Martie is a lecturer and researcher in the field of biomedical laboratory techniques. Within CURE4LIFE, his work mainly revolves around the technological aspects of gene therapy. "How can we ensure good, efficient and safe treatments for patients? More specifically, we're trying to find out how we can improve the technology we use to modify DNA in stem cells." This also brings the consortium's main goal within closer reach: to be able to offer more patients gene therapy treatments – and permanent cures – within the next five years.
Strengthening education
Participating in CURE4LIFE also gives Avans the opportunity to further strengthen its education, for example by using the research results in courses and research projects for students. In addition, the partnership makes Avans a more attractive research partner for external parties, Martie explains. "It provides us with knowledge that we can use, which can lead companies or institutions to say: 'Hey, could you use your knowledge to do research on this or that issue for us?'"
CURE4LIFE is led by Leiden University Medical Center (LUMC). In addition to LUMC and Avans University of Applied Sciences, partners include several patient associations, Erasmus MC, Utrecht University, UMCU, Vrije Universiteit Amsterdam and Radboud University Nijmegen. The consortium is also supported by Batavia Biosciences, ISHEO, Miltenyi and Zorginstituut Nederland. The NWO grant has been awarded under the National Science Agenda's Research along Routes by Consortia programme (NWA-ORC).