Yesterday we received the sad news that our former President of the Executive Board Paul Rüpp has passed away at the age of 65, after a brief illness. He was diagnosed with bladder cancer at the end of 2022 and, once it was clear that treatment was unsuccessful, he made it known that he did not wish any further treatment.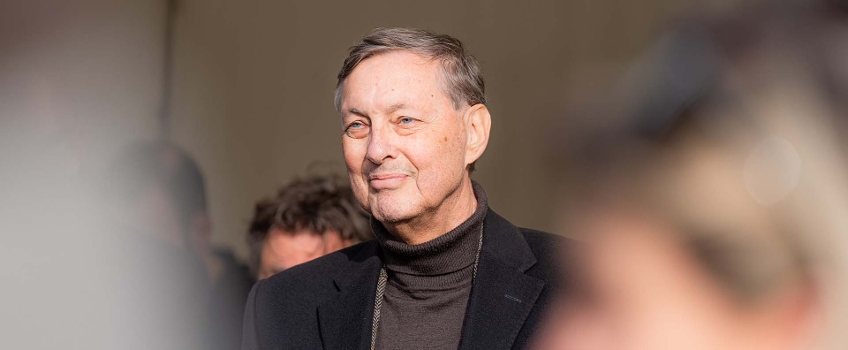 Paul was President of the Executive Board of Avans University of Applied Sciences for twelve years, from December 2009 to September 2021. During this time he made his mark on the institution, establishing himself as a bold and decisive manager as well as an empathetic leader of the Avans community. He made it a habit to phone board members and deputy members on their birthdays and sing Happy Birthday to them, often continuing to do so even after they had left to take up positions elsewhere.
This warm personal approach that typified him was reflected in all his actions. He took an interest in people and their personal situations and knew employees, and often even their family members, by name. Before joining Avans, he held several public roles, including as a council member, alderperson and member of the Provincial Executive. He drew on his political experience and natural charm to engage with people and bring them onboard.
Paul became a member of the Executive Board not long after the merger of Hogeschool West Brabant (West Brabant University of Applied Sciences) and Hogeschool 's-Hertogenbosch ('s-Hertogenbosch University of Applied Sciences). It was a turbulent period with many complex issues, declining ratings and falling student numbers. In the twelve years that he was President of the Executive Board, he made Avans a distinctive and unified educational institution. Having no roots in either of the two former universities, he was able to break with the traditional thinking that dominated in Breda and 's-Hertogenbosch. His message was: we are one Avans. He brought with him an extensive network of contacts and quickly proved himself to be the figurehead that Avans needed.
The visible pride he took in Avans rubbed off on employees and students. Paul gave Avans a recognisable outward appearance. Princess Beatrix asked him to become chamberlain to her while she was Queen, and he later fulfilled the same role for her successor, King Willem-Alexander. He considered it a great honour to serve in this office.
His experience in the business world reinforced his belief that we are here for the students and have a responsibility to train them to become highly qualified professionals. This characterised his vision, and is carried forward in the approach that still guides our institution.
Also significant is the moment of reflection that he allowed himself after completing two four-year terms as President of the Executive Board: he took a five-month sabbatical and embarked on a long trip through several African countries. This journey not only brought him new personal insights, but also enabled him to refocus and sharpen his vision on Avans.
The importance of social impact, which he experienced in Africa, was translated into the ambitions and path for our university of applied sciences. Avans was one of the first educational institutions to embrace the Sustainable Development Goals. He also laid the foundation for Avans' vision of sustainability and our integrated approach to education, research and operations. Under his presidency, Avans became the university of applied sciences we remain to this day: an institution that is part of society and voices its views on societal developments.
Paul was a man with a sense of humour, who was certainly not averse to self-mockery. He joked about his ego and was well aware that he enjoyed being seen, recognised and acknowledged. As a true team player, he also believed this was important for everyone and he was committed to giving them opportunities and the confidence to develop, both personally and professionally.
By taking an active role in the public debate as well as in the Netherlands Association of Universities of Applied Sciences, he brought Avans recognition and acknowledgement. Paul, and by extension Avans, played a leading role in developing academies for part-time study programmes and associate degrees.
Paul was a Dutch-language scholar in heart and soul. He began his career teaching Dutch at Kruisheren Kollege in Uden and Bernorde Gymnasium in Heeswijk and wrote for the Udens Weekblad and Brabants Dagblad newpapers. He never lost his love for language and enjoyed reading and quoting from his large collection of books. He also had a lengthy administrative association to the Instituut voor de Nederlandse Taal (Dutch Language Institute).
Paul was an erudite man: well-spoken, well-read and with a wide knowledge of many fields. In his speeches, he frequently showed himself to be an authority, often concluding with a poem or quotation from one of his favourite writers. This generally went to the heart of what he had discussed in his speech and encouraged reflection amongst the audience.
Anyone coming to Avans now will still recognise Paul's influence in our core values – we remain socially committed, ambitious and personal – and in the small-scale environment where we see, recognise and acknowledge each other.
Upon retiring as President of the Executive Board of Avans, he was named an Officer in the Order of Orange-Nassau. Shortly afterwards, he returned to public administration, in early 2022 becoming acting mayor of the Municipality of Maashorst, which was created from the merger of several municipalities, including Uden, where he had formerly been a council member and alderperson. On 20 February 2023, he was also awarded the Honorary Cross of the Order of the House of Orange. His illness ultimately prevented him from becoming mayor, as had been intended.
He will be missed by us all.
Paul read out this poem during one of the online meetings that took place during the pandemic.
Low tide
I retreat and wait.
This is the time that is not lost:
every minute is transposed into future.
I am an ocean of waiting,
water-thin enclosed by the moment.
Absorbing low tide of the mind,
which ebbs the minutes and which deeply
prepares the high tide in its darkness.
There is no time. Or is there nothing but time?
(M. Vasalis, 1954) Translation: Rianne Koene