We are faced increasingly with major issues that do not end at geographical borders. The energy transition, the nitrogen issue and the climate problem. These are cross-border issues, so we have to tackle them internationally. In the Week of the International Student, Jacomine Ravensbergen of the Executive Board of Avans University of Applied Sciences talks about the importance of internationalisation.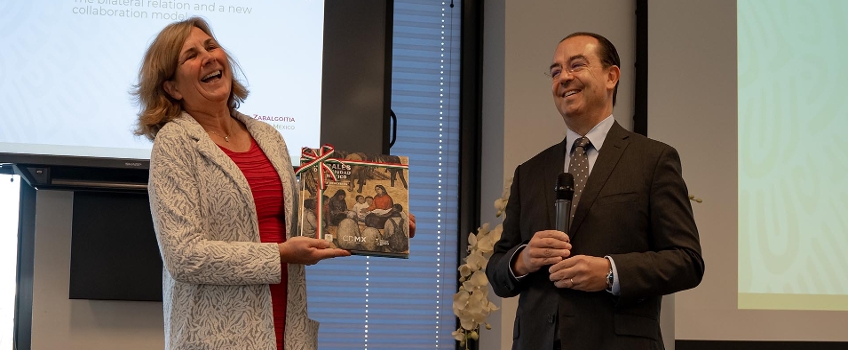 "Internationalisation has always been an important topic," Jacomine begins. "After all, there are very few companies in the Netherlands that are concerned solely with domestic business. So as a university of applied sciences we have to do something about it too." Major social issues have arisen in recent years. "The energy transition, agricultural transition, food transition. We in the Netherlands cannot solve such issues on our own. We have to tackle them in partnership with our neighbouring countries. We have to prepare our students for that."
From improvement to expansion
In the past few years, Avans was concerned mainly with improving the current international policy. Integrating the international competencies even better into existing study programmes. And building up an international community. "Four or five percent of our students come from abroad," says Jacomine. "Those students can feel quite lonely among all the Dutch students." There was not necessarily a demand for more English-language study programmes.
But that is changing. Because of the major present-day issues and because of labour market shortages. "We have a lack of personnel in healthcare, education and technology. If we as Avans want to help find a solution, we have to recruit internationally." Technology in particular is well suited to this. "It's a really international sector. We are presently investigating whether we can offer more English-language study programmes in those disciplines," Jacomine explains.

Avans is also working on a Master's Institute, for which seven Master's programmes are on the schedule. Four or five of them will probably be given in English. Research could also play a big role in Avans's ambitions in terms of internationalisation. "Research is international by definition," says Jacomine. "The new Centres of Expertise focus on major social issues. Energy, food, housing, nitrogen… These issues extend beyond the Dutch borders." Further strengthening the link between teaching and research ensures that the international nature of research filters through to the teaching, as well as to staff and students.
Student apartments
A significant part of the ambitions in internationalisation is to attract more foreign students to Avans. But those students have to be able to find somewhere to live. That is something that has not always been easy in recent years. "We want more student apartments to be built alongside the Avans building in Tilburg," Jacomine confirms. "And there will be a few hundred extra student apartments in Onderwijsboulevard in Den Bosch. But it isn't so easy in Breda. There we are being held back by regulations. If we can find a solution with the City, we can quickly provide accommodation on the campus." Fortunately, Avans still has time on its side. The first international Master's programmes start in September 2024 and the plans for international technology teaching are still in the exploratory phase. "We don't want to ask too much of our staff in that regard. They already have their hands full with the educational transition."
Nevertheless, the educational transition provides opportunities for internationalisation. "We are now redesigning the study programmes," says Jacomine. "So this is the right time to think about it. And internationalisation also affects important themes in our Ambition 2025. Diversity and inclusion, for example, as well as sustainability. When we get going with that, it will actually be very logical to include internationalisation."
Internationalisation at home
Internationalisation is more than just bringing foreign students to Avans. All students get English at B2 level. And during their study programme many students take a minor in another country or do their work placement abroad. "But we are also engaging in internationalisation at home, for instance with international challenges and by cooperating with international companies," says Jacomine. "Or we arrange work placements in places in the Netherlands where a lot of different cultures come together. In this way, we get all students ready to work together with different nationalities and cultures. And not only the students that are taking an international study programme; after all, internationalisation is something that affects everyone at Avans."

Photo: This week the International Conference takes place at Avans. Students from three international minors set to work on assignments from two lecturers from the Centre of Expertise for General Well-Being and New Entrepreneurship and from the Province of Noord-Brabant. Jacomine Ravensbergen opened the conference in the company of the Mexican ambassador to the Netherlands, Mr José Antonio Zabalgoitia Trejo.