Avans students Lisa Heyman and Nick den Bol had a dream: to plant a tree for every new Avans graduate. Thanks to their dream we are now planting an actual forest. 4,000 trees have already been planted and this week another 5,500 trees will be added in honour of the students receiving their diplomas.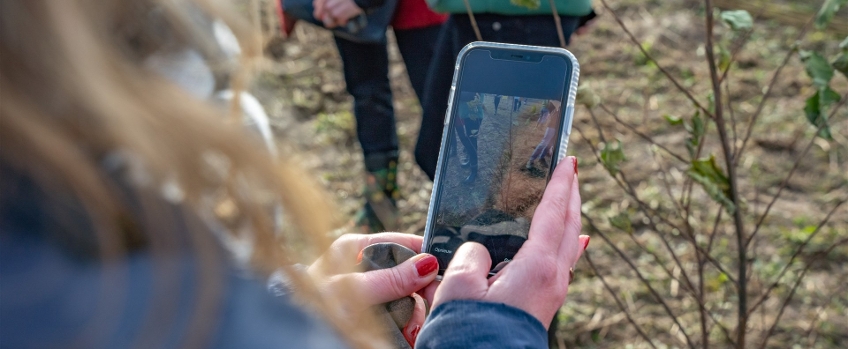 Lisa and Nick developed their idea under the banner of GreenOffice at the Avans Centre for Entrepreneurship and International Business. In last year's pilot, 16 schools gifted their students a graduation tree during the diploma presentation. This year, a whopping 19 schools will be participating and over 5,500 graduates will be gifted a tree. Most graduates will be receiving their diploma and appendix next week during the central diploma presentations in Breda and Den Bosch.
30,000 graduation trees
Lisa and Nick turned to Life Terra to help make their dream come true. This foundation aims to plant 500 million trees in Europe over the next five years. Avans will be contributing to this mission by gifting all Avans graduates a tree for the next 4 or 5 years. The Executive Board plans to plant a total of 30,000 trees. Avans is planting these trees in an effort to offset the institute's CO2 emissions. We are currently planting trees in the Diezemonding area of Den Bosch. The municipality has made some land available there. From 2025 we will begin planting forests in Breda and Tilburg. New forests will then be growing in all three Avans cities.
Alumni Tree Planting Event
It goes without saying that Avans does not gift students trees to take home. Instead, they will receive a certificate allowing them to register their tree. They will also be given the opportunity to plant their own tree during the Alumni Tree Planting Event on Saturday 12 November. The event will also be a great opportunity for the alumni to catch up with their former study friends. Once the alumni have planted their trees, they will receive the coordinates so they will always be able to find their way back to their tree. They will also be able to use the coordinates to keep track of the growth of their tree online.
Life Terra selected 11 different tree species for this part of the forest. These trees fit in well in the environment and contribute to local biodiversity. The alumni get to choose a tree themselves.
Check out the forest online
Go to the Life Terra website to see how the graduation trees are doing. The map shows exactly which trees we have planted in which location. When you zoom in, you can click on each tree separately. A pop-up will show all of the information for the tree in question.